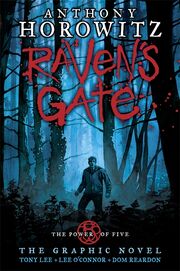 Raven's Gate - The Graphic Novel is the atmospheric adaption of the Number 1 bestseller, Raven's Gate by Anthony Horowitz.
Featuring striking, high-contrast black-and-white art with vibrant splashes of colour, this distinctive graphic novel captures the brooding atmosphere of the bestselling book.
Plot Summary
[
]
Matthew Freeman is sent to Yorkshire on a rehabilitation programme but finds himself in the midst of a sinister conspiracy of witchcraft and murder. He uncovers a terrible secret: the Old Ones - monstrous godlike beings once banished from our world - are trying to return. Matt is about to discover that he alone stands between the forces of evil and the annihilation of humanity...